Moderator: Caterwaul
Class A Shinki
Posts: 138
Joined: Wed Mar 11, 2009 12:12 am
Shinkis owned: 11
MMS owned: 1
Favorite MMS/Shinki: Pomock
Renge, type Ninetails and Gabrine, type Hellhound

Designer is Yoshitsune IZUNA.

*edit: thanks Maou and Morino for the Hellhound name*
Attachments

new wave.JPG (70.13 KiB) Viewed 9592 times
Last edited by
General_Noodles
on Tue Feb 23, 2010 3:22 am, edited 1 time in total.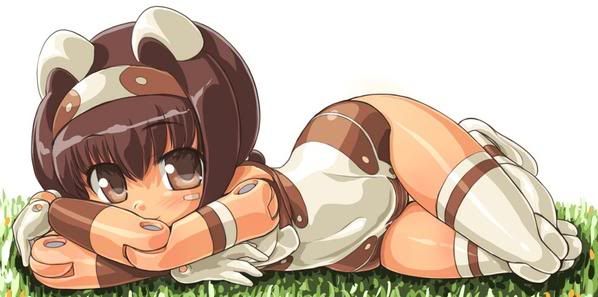 ---
Class S Shinki
Posts: 356
Joined: Mon May 04, 2009 7:34 pm
Shinkis owned: 31
MMS owned: 1
Favorite MMS/Shinki: Arnval
Location: Tampa Bay Area, Florida
I... am not impressed with those at all... They kinda look like BLADE Shinkis trying to be badass. It's not working, either. But maybe they'll grow on me like Mereinda and Kohiru did.
---
MMS Naked
Posts: 18
Joined: Fri Aug 28, 2009 1:54 am
Shinkis owned: 3
MMS owned: 3
Favorite MMS/Shinki: Mizuki
Konami knows how to get to my wallet. <3
---
Class B Shinki
Posts: 72
Joined: Tue Apr 29, 2008 2:23 am
Shinkis owned: 14
MMS owned: 3
Location: Waiting for the full moon...
Contact:
Kyuubi no Kitsune(Nine-tailed fox)-type MMS: Renge
Hellhound-type MMS: Gabrine

Not bad, though I kind of wish they were more clothed.
Got any Shinki codes you're not going to use? Then why not throw them my way? :3
---
Kamen Adminder
Posts: 1290
Joined: Sun Apr 27, 2008 1:28 pm
Shinkis owned: 33
MMS owned: 0
Favorite MMS/Shinki: Partio
Contact:
Something about this pair seems incredibly bland and amateurish in design and sculpt...

...yet I now want both because I noticed Gabrinu has Graffias's skintone. Fffff. Not to mention they seem to be Small-types...
---
Class A Shinki
Posts: 140
Joined: Mon Mar 02, 2009 7:27 pm
Shinkis owned: 8
MMS owned: 0
Favorite MMS/Shinki: Zelnogrard
I want the Hellhound (maybe she's supposed to be a Black Dog or Cerberus?), and the Kitsune's butt-armory.
Battle Rondo username: ninerplease

Class A Shinki:
Panzer Melt
Class B Shinki:
Gunbunny HETARIA
Class C Shinki:
Cannon Utsuho
Angel Commando Gabrielle
Fighter Ijimeko
Not in Service:
Ninja Zubera
Firearms Kanna
Succubus Lilim
---
Class S Shinki
Posts: 434
Joined: Sun Jan 24, 2010 7:15 pm
Shinkis owned: 41
MMS owned: 13
Favorite MMS/Shinki: Altines/Valona
Location: Colorado, US
Contact:
hauuu~ wanna take them home!
---
News Reporter
Posts: 1429
Joined: Mon Apr 28, 2008 2:06 pm
Shinkis owned: 0
MMS owned: 0
Favorite MMS/Shinki: Howling
Location: New Jersey, the suburb state
Contact:
Do we know who the artist is? That style looks VERY familiar.
I like em, myself. The helmets are cool, and I like how Renge's hair forms 9 tails for her helmet when she's got it on. Gabriene's helmet looks like it could hinge so she's got a fangy mouth.
---
Class A Shinki
Posts: 137
Joined: Sun Mar 22, 2009 10:16 pm
Shinkis owned: 12
MMS owned: 1
Favorite MMS/Shinki: Murmeltier
Contact:
hmm, sort of want type Hellhound, though i will probably paint over it a bit to give it some more clothing.
---
Class C Shinki
Posts: 35
Joined: Sat Jun 14, 2008 12:23 pm
Shinkis owned: 11
MMS owned: 1
Favorite MMS/Shinki: Customs
Well, Gabrine is DOWANT, though Renge(thanks to Mori on cbox telling me the names) needs to have her tail a good bit more streamlined before I'll jump to buy.
---