Moderators: Deviant Anomaly, halconfenix
Class C Shinki
Posts: 43
Joined: Mon Jun 10, 2013 12:58 pm
Shinkis owned: 5
MMS owned: 0
Favorite MMS/Shinki: Pomock
wow that is some gorgeous custom shinkis you have

and congrats with the bikers, did you paint their mouths yourself
---
Class A Shinki
Posts: 142
Joined: Wed Aug 01, 2012 12:41 pm
Shinkis owned: 7
MMS owned: 3
Favorite MMS/Shinki: Altlene
mystika wrote:wow that is some gorgeous custom shinkis you have

and congrats with the bikers, did you paint their mouths yourself
Yes, I use acrylic color water based. It is easily remove, if you miss, you can use your nail to scratch it out.
---
Class A Shinki
Posts: 142
Joined: Wed Aug 01, 2012 12:41 pm
Shinkis owned: 7
MMS owned: 3
Favorite MMS/Shinki: Altlene
After I learned about how to cast resin, I saw that many Japanese Modeler made their own 1/12 naked body action figure to custom with Figma and Busou Shinki and as everyone know that mms naked are very rare and high price, so I design to make my own for my shinki.
First I used Revoltech Queen's Blade Alice's body, Figma Fate's arms and Nozomi (sekirara) leg to made a prototype silicone mold to make prototype resin part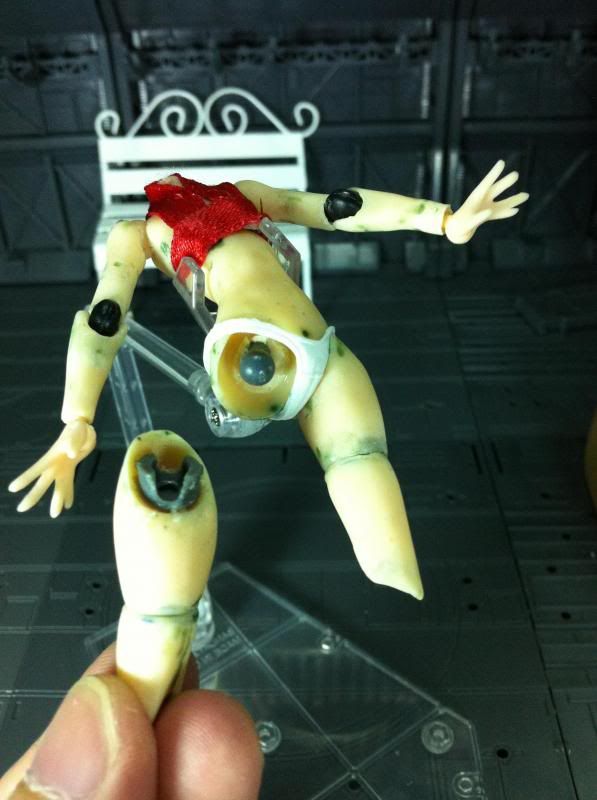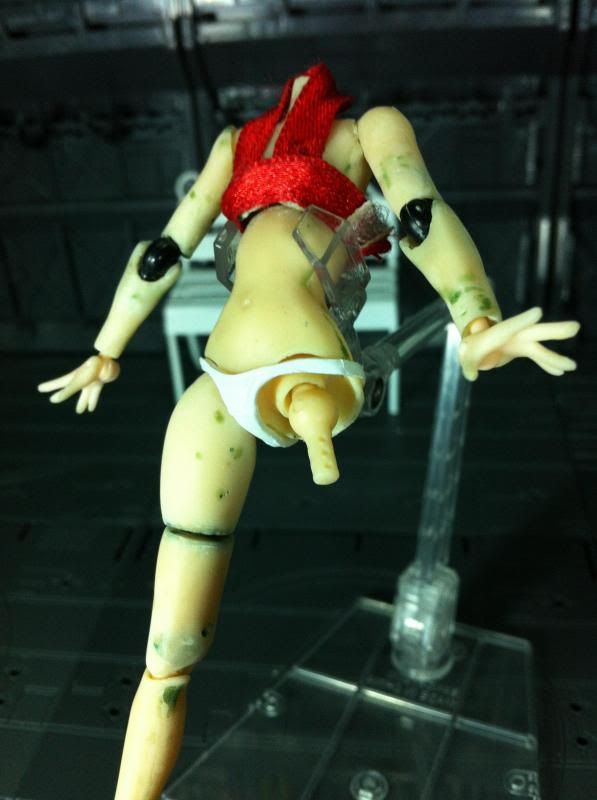 I test 2 type of hip joints with revoltech type and ball joint. I prefer revoltech type, it is easy to replace and moving, then I design to buy ball joint that look like revoltech but without gear in side from Taobao (china).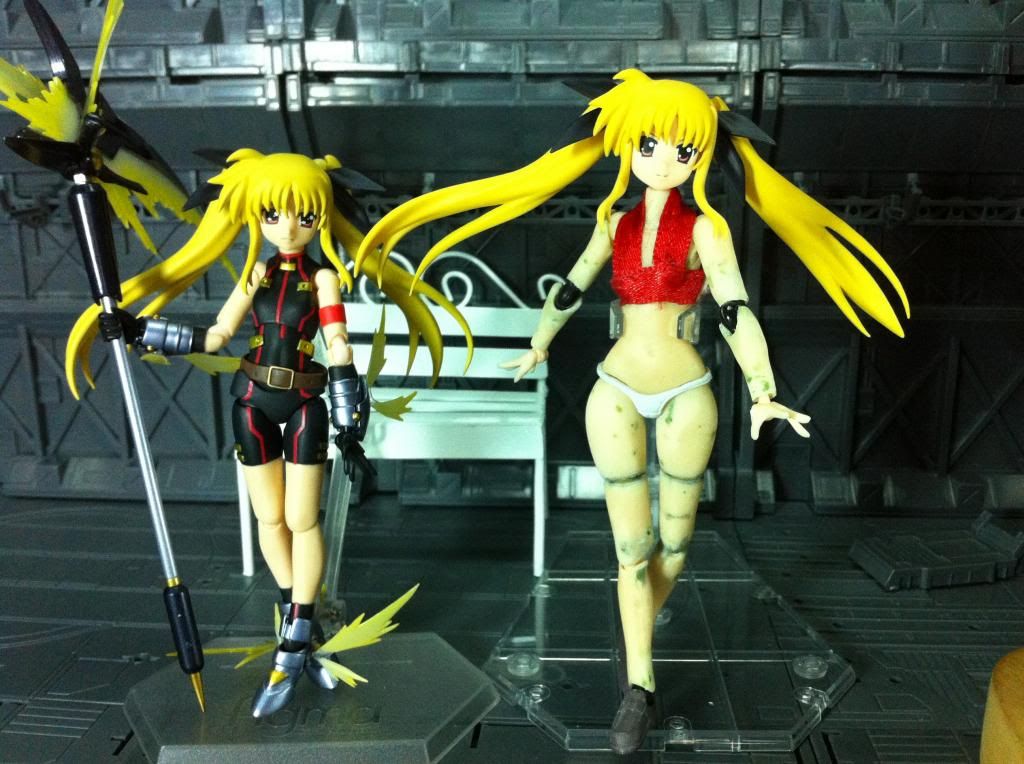 Test with Figma Fate. Too high for children Figma, but for Busou Shinki, it fit perfectly.
This is Prototype Small.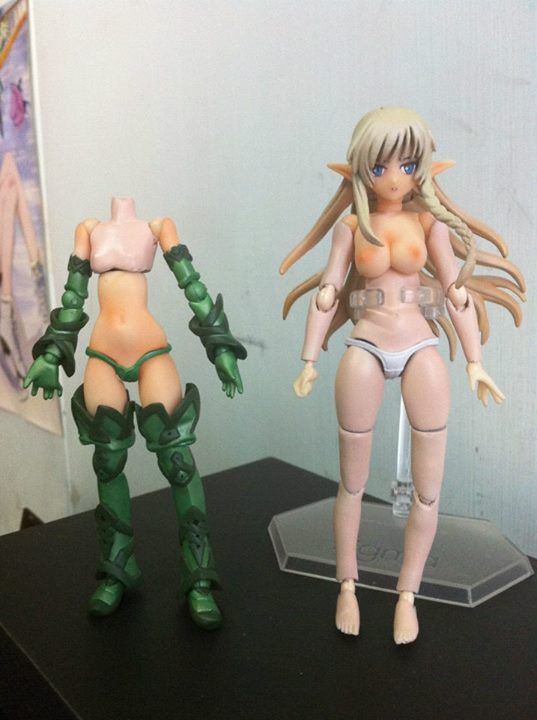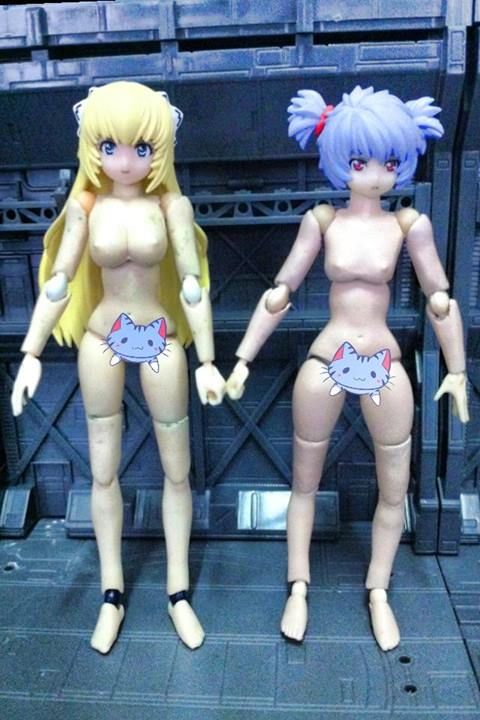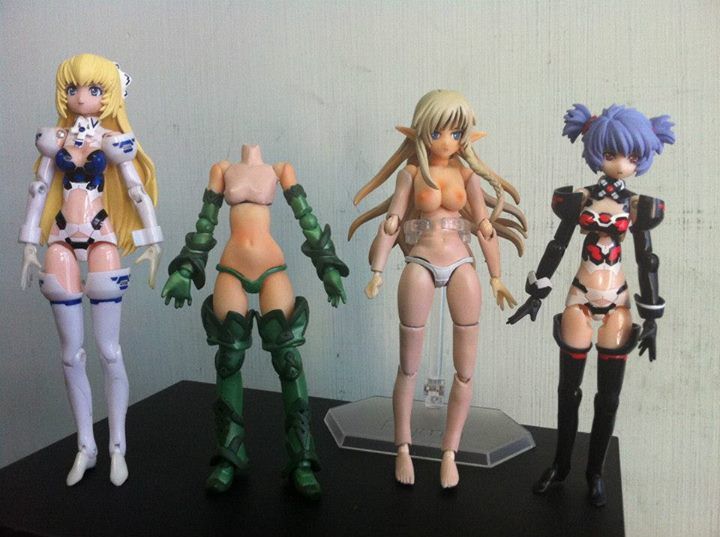 Then I made tall one by using Revoltech Queen's blade Alleyne body and Figma Aya (morning coffee) to made mold.
It had the problem about the durable of color, so I got 2K flat clear color from my friend to coating. 2K color is color for car, so it can protect color from normal scratch.
Test with shinki
Test with Revoltech. Revoltech has another color tone, may be I will make special color for them later.
Now I have 3 Tall and 3 Small body, next I will try to sewing some clothes.
Last but not least, MS Girl (LOL).
---
Class A Shinki
Posts: 142
Joined: Wed Aug 01, 2012 12:41 pm
Shinkis owned: 7
MMS owned: 3
Favorite MMS/Shinki: Altlene
I had go to bookstore in my home town to buy some book and then I see something.
It is sticker for postcard decoration, that has 1/12 scale dress as decoration sticker.
I buy 3 of them back home to test with shiki. It can put on shinki but not fit, so I sew to reshape it to fit with shinki.
The white wedding dress for Renchan (but if any one ask for her, he will be head shot).
The blue party dress is cute but it need something, may be some cute .
The Black dress is a little too big for small shinki but it is fit for tall one.
This dresses is about 2$ and need some sewing skill to reshape.
Omake
Allyene sensei in private suit is going to date with Nowachan. (LOL)
---
Class S Shinki
Posts: 278
Joined: Mon Nov 28, 2011 3:04 am
Shinkis owned: 11
MMS owned: 2
Favorite MMS/Shinki: Asuka
Location: Thailand
Contact:
With a little bit of needlework, they're practically made for 1/12 scale figures.

It's kinda funny, the things they sell in bookstores these days. XD

Then again, the bookstores in Thailand nowadays are closer to one-stop stationery stores. They've got everything from books (duh) to drafting tables.
<<Should you fail, try and try again.>>
---
I really like the work on the bodies. The only thing I'd change is to slightly lengthen and slenderize the wrists so they look more natural when using Shinki hands.
---
Class A Shinki
Posts: 142
Joined: Wed Aug 01, 2012 12:41 pm
Shinkis owned: 7
MMS owned: 3
Favorite MMS/Shinki: Altlene
Long time no see everyone, here is my latest custom Shinki.
Yatogami Tohka from anime and light novel Date A Live
I used Taito Prize's Yatogami Tohka and Shinki body as based to custom
with nendoroid
Nendoroid energy bullet effect part
Nendoriod choice effect part
Her favorite bread
Heaven for Tohka
Use Figurise6 Black Lotus's effect part
2 heroine from 2 era Yuna & Tohka
Although I used MMS body as base, but with her long skirt, she can't move leg freely. I still have a plan to change her clear skirt with clear plastic clothes, but I can't find the appropriate one.
For Coloring, I painted only Shinki body to fit with armor and faces. For Fresh color, I use surface white and then cover with orange (Gunze) and 3rd layer is Note Fresh (Gaia color#051)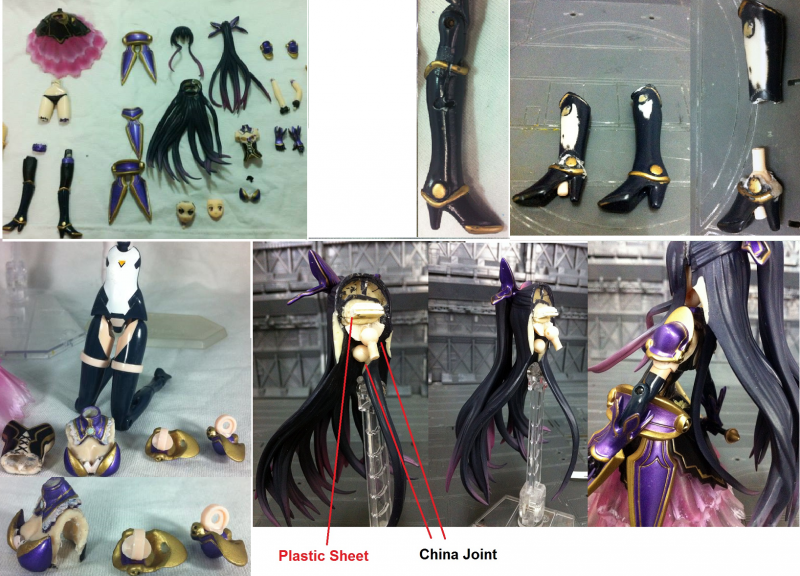 Here is some of WIP Pic
Tohka with my custom body
Tohka in kimono
Sexy Tohka (LOL)
---
Official Tally Keeper
Posts: 1236
Joined: Tue Apr 29, 2008 11:00 am
Shinkis owned: 32
MMS owned: 0
Favorite MMS/Shinki: Space Shuttle Arnval
Location: Manizales (Colombia)
Contact:
that's outright amazing!
awesome custom! congrats!
---
Class S Shinki
Posts: 428
Joined: Fri Jun 17, 2011 3:33 pm
Shinkis owned: 14
MMS owned: 2
Favorite MMS/Shinki: Howling and Partio
Location: Scotland
Contact:
Amazing work!!! She looks fantastic, the work on her armour looks especially amazing!
---