New Shinkis!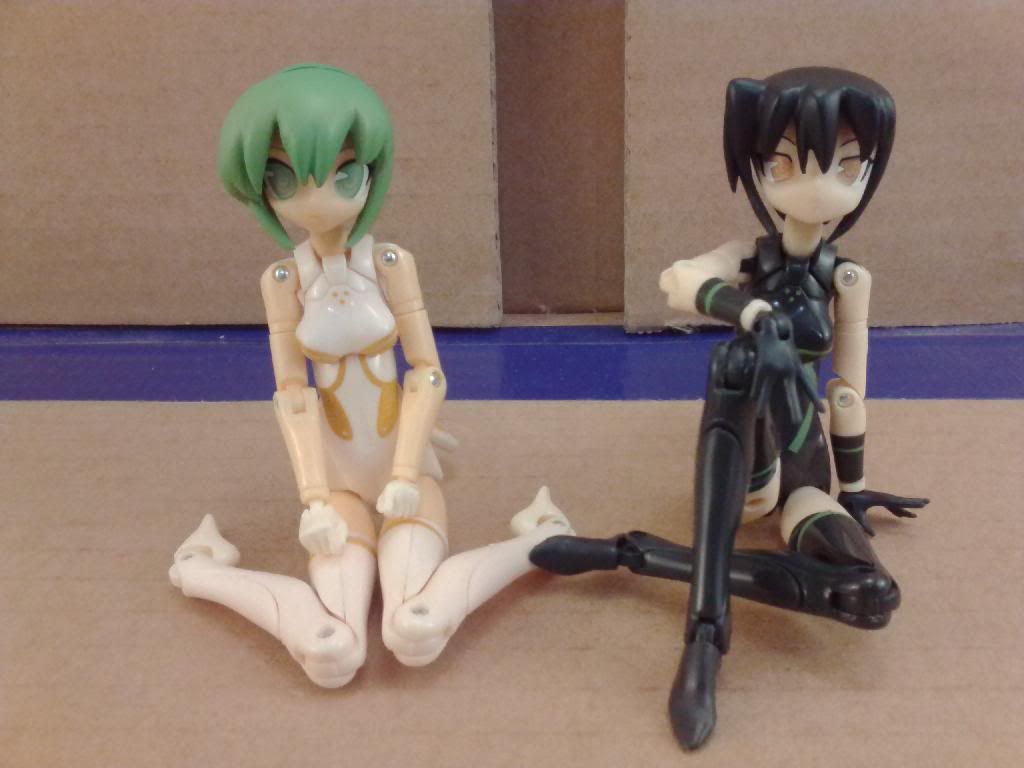 So, Mao Chao and Howling are two Shinkis from all the way back from the line's beginning (I believe they were Wave 2), and it shows. They're both MMS1 Shinkies, they only have one face apiece, and each has eight hands: fists, holding hands, holding hands without wrist hinges, and open hands.
As for the girls themselves, they are clearly designed to be opposites: Mao Chao is colored in primarily white with orange detailing, Howling is black with different, green detailing; Mao is innocent-looking with big green eyes, while Howling is more serious with hazel eyes; Mao has darker skin, Howling has paler skin. Rather fitting for cat- and dog- themed Shinkis.
Here's where I'd go onto the armor, but that needs to wait for a second. See, Howling and Mao are designed a little differently than most other Shinkis, in that aside from their armored forms, the girls have extra weaponry that they can't wield with the armor on...or at least, Howling does. I want to talk about those weapons really qui-
WARNING-A HUGE BATTLESHIP "TRESSPASSER" IS APPROACHING FAST
...huh. Well, at least this gives Howling a chance to test out her weapons.
As you can see here, Howling comes with two different kinds of weapons: beatsticks, and chakram (although, given that Howling's name is a pun on the Chinese-sounding name Hao Ling, they might actually be
Wind and Fire Wheels
). Their inclusion with the set ties into the dog motif, sort of; dogs are associated with sticks (namely, fetching them), and the chakram do kind of resemble spiked collars. Having both of her extra weapons also makes since, as dogs would be melee fighters due to having teeth and claws.
As a digression, how many of you out there knew that chakram are actually real weapons? And how many of you learned about them from a source other than Kingdom Hearts?
Mao Chao, unfortunately, doesn't have any weapons that she could use outside of her armored mode. As a result, when she's not armored up, her combat potential is...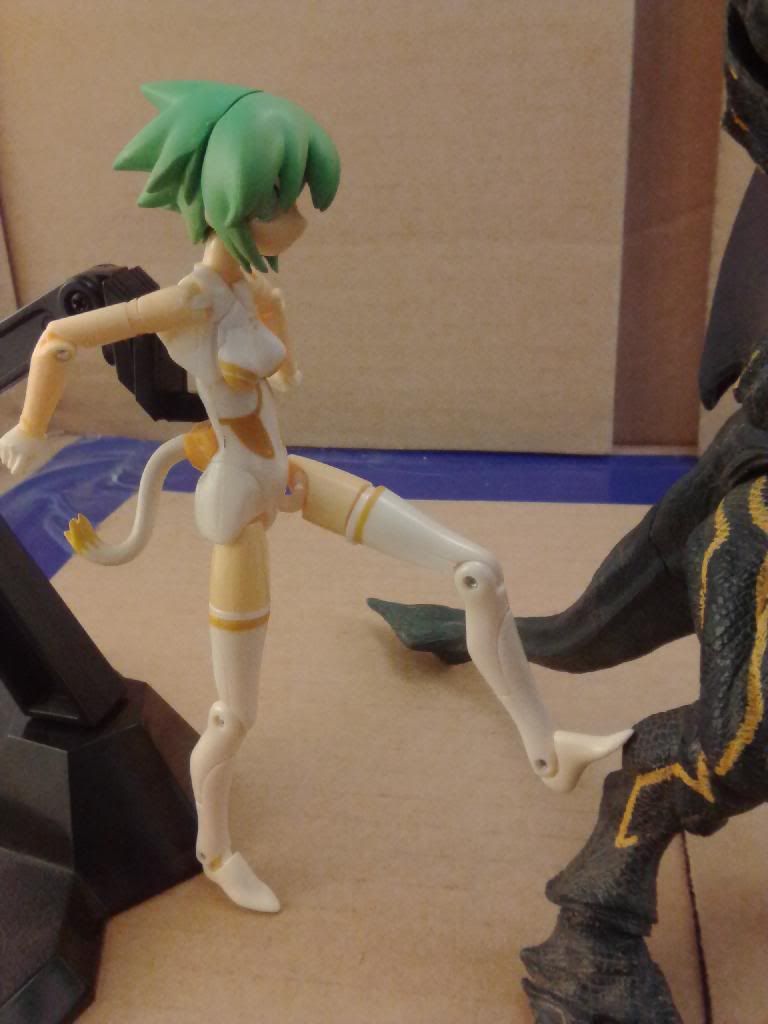 "NYAH! NYAH! Take that, you big ugly monster!"
....Limited.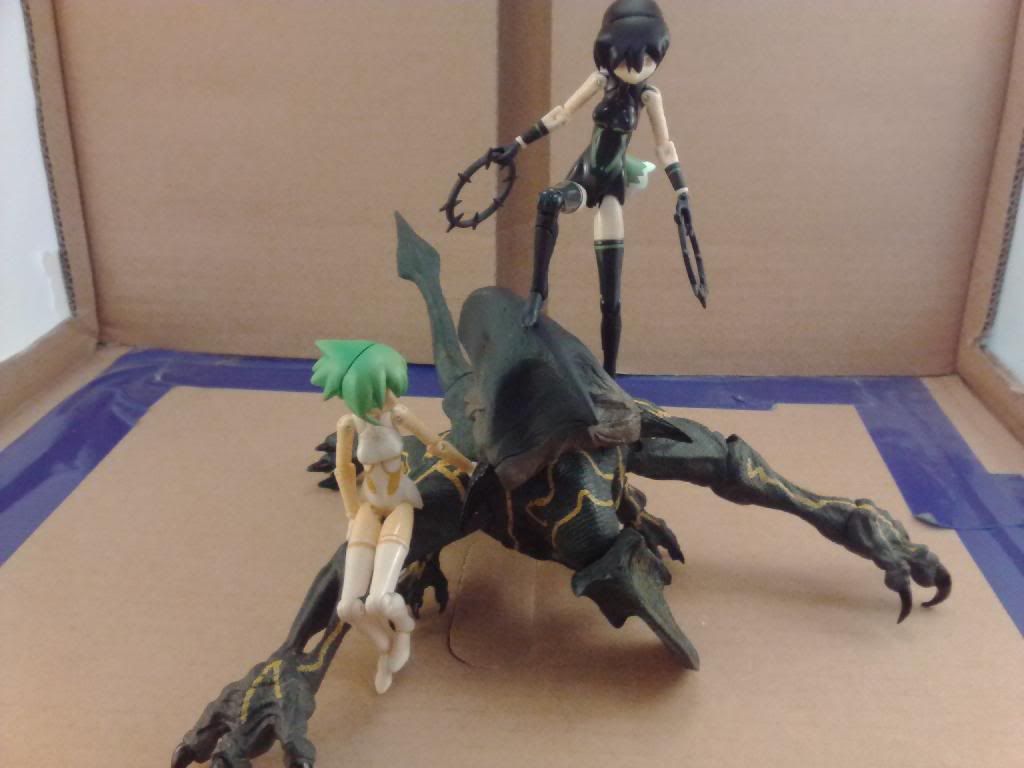 "*pant* *pant*"
"Is it dead now, nya?"
aaaaanywho, let's get on with this. Next up, armored mode!
Like I said, Mao and Howling are both designed differently than most other Shinkis armor-wise; instead of modular, mecha-musume armored forms, here the armor resembles a suit of animal-themed body armor, with an animal-themed fancy hat, torso armor with large paw-shaped gauntlets, and greaves that also resemble animal paws. The armor is made of several pieces, and has to be installed by taking the Shinkis' arms and breastplate off.
Coloring-wise, the armor matches both of their color schemes, though it fits Mao more than it does Howling. Both Mao's base outfit and the kitty armor are bright white with orange highlights, so the colors flow well enough to make the whole ensemble look like a single outfit. Howling, meanwhile, is black and green, while the armor itself is green and white, meaning that things don't flow as well. I suppose the black bodysuit looks good as under-armor, but it would look better if Howling had some waist armor as well. As it stands, it kind of looks like she forgot her pants.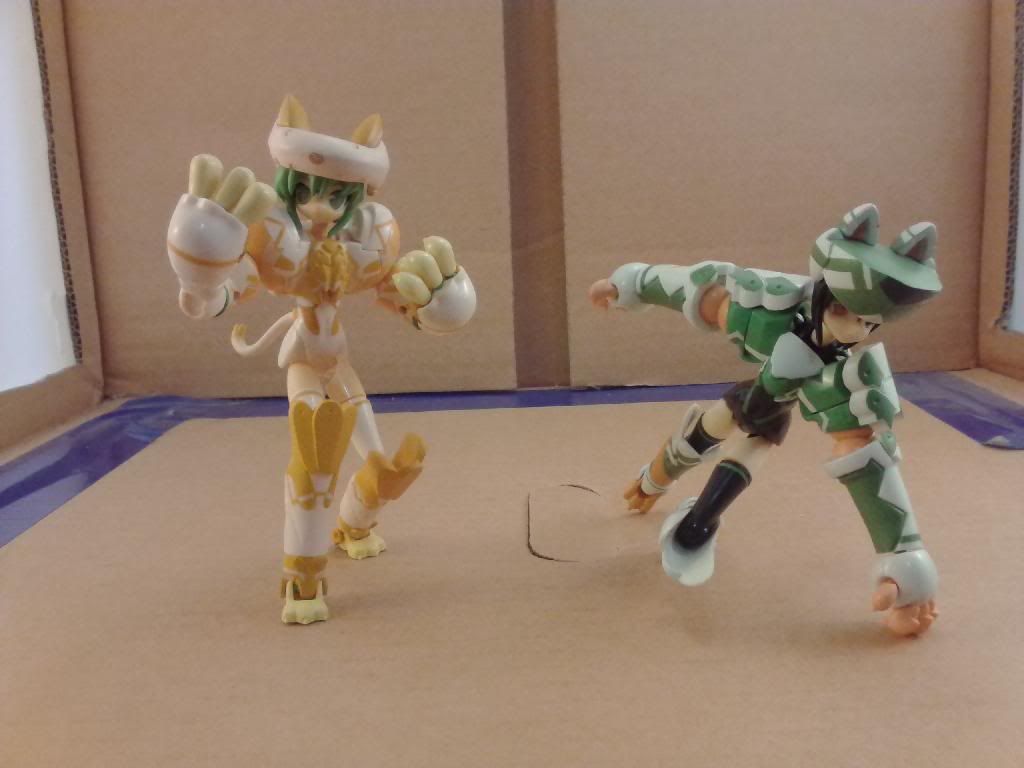 Both sets of armor have an ankle joint for both legs, and use double ball joints to connect the armor's arms to the chestpiece, giving them a little bit of articulation. Both have wrist joints, and the fingers of the paws can be moved slightly. As for the arms themselves, here's where the figures differ: Howling's arms are completely straight, with absolutely no elbow joint. As a result, the arms have trouble assuming an actiony pose, but looks fine in relaxed poses. Mao, on the other hand, has bent elbows and a swivel joint at the elbow. This results in the opposite problem; unable to be relaxed, but able to look good in action poses. And since one is going to have the armored-up Shinki in actiony poses, this means that Mao comes on top for armor mode articulation.
Next up, weapons! Everybody loves weapons!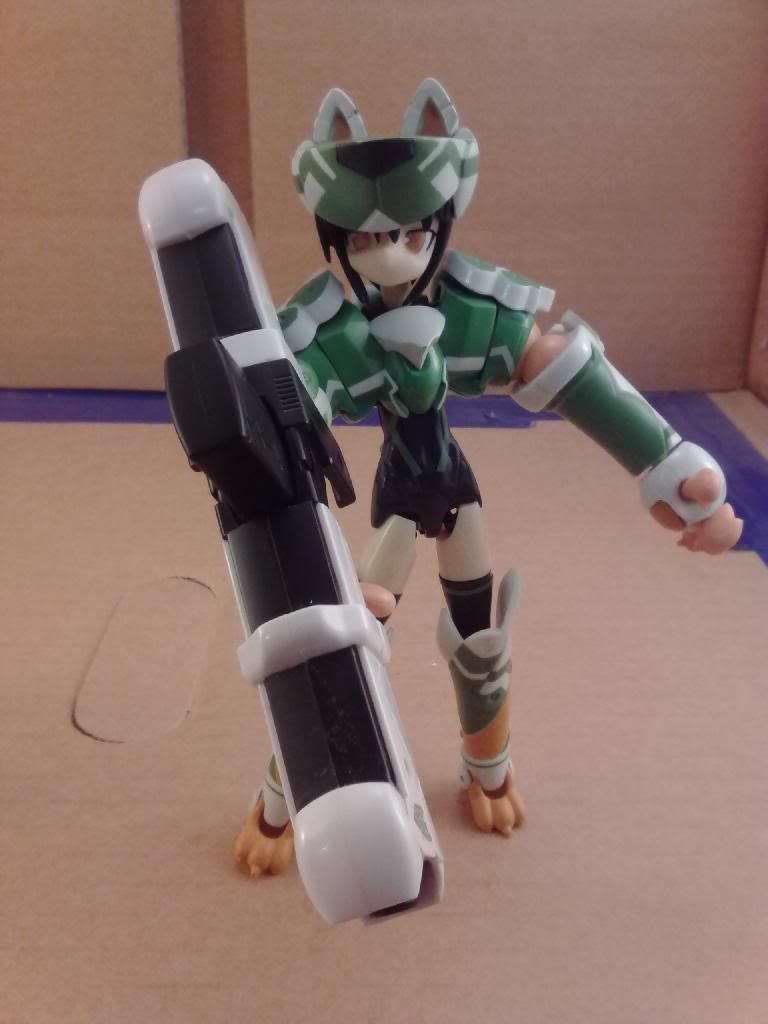 Unfortunately, Howling only come with one armored mode weapon: a bone-shaped bazooka with a removable magazine that attaches to her arm Megatron-style.
Due to the limited articulation of the arms, Howling has trouble holding up the bazooka properly. In addition, the weapon is rather heavy, requiring delicate posing to keep the figure from toppling over.
Mao Chao, on the other hand, is a little more versatile. She comes with a pair of Wolverine-style claws...
And she also comes with a giant drill and a brass knuckle/arm shield. Both the knuckle and the claws need to be disassembled and attached to her hand; the drill, on the other hand, is just swapped out with the hand.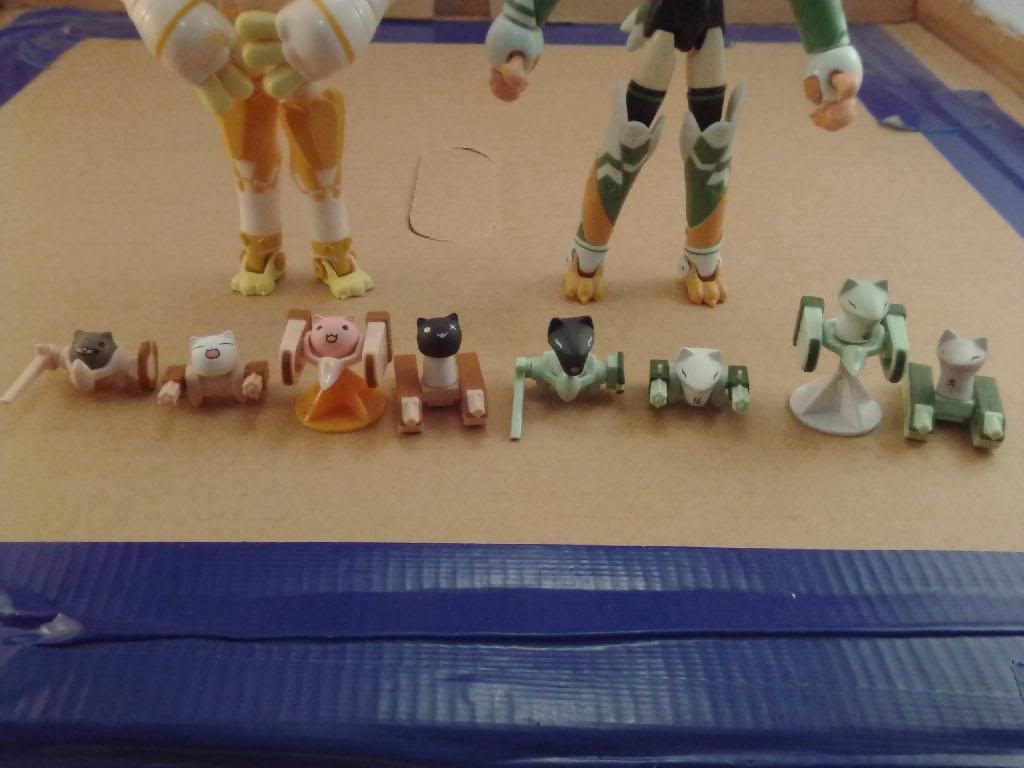 Both Howling and Mao Chao come with a squad of support drones: a soldier with miniguns, a paladin with a shield and lance, a scout with thrusters, and a tank, complete with treads and cannons. Mao's drones are cat-themed and distinguished by color and facial expression, while Howling's dog drones are distinguished by color and the kanji on their chins. In addition, both come with a fifth drone, which attaches to their backs like this:
What is the purpose? Not sure, but I'm tempted to say that they're supposed to be backup units should one drone get destroyed.
So, that's Howling and Mao Chao. My thoughts?
Honestly, I'm kind of surprised. I actually like Mao Chao better, at least where the armored form is concerned. It just looks better on her than it does on Howling IMO. Not bad for a Shinki I swore I wouldn't buy just so I could avoid being that guy who buys catgirls. :p
Howling is nice, but again, I like Mao better. Maybe if she had come with more armored mode weapons (and the elbows on her armor actually bent), I'd like her more. At any rate, she's pretty okay, could be better, but not something I'd complain too much about, considering she was 20 bucks.
Bonus pictures with other things I bought today: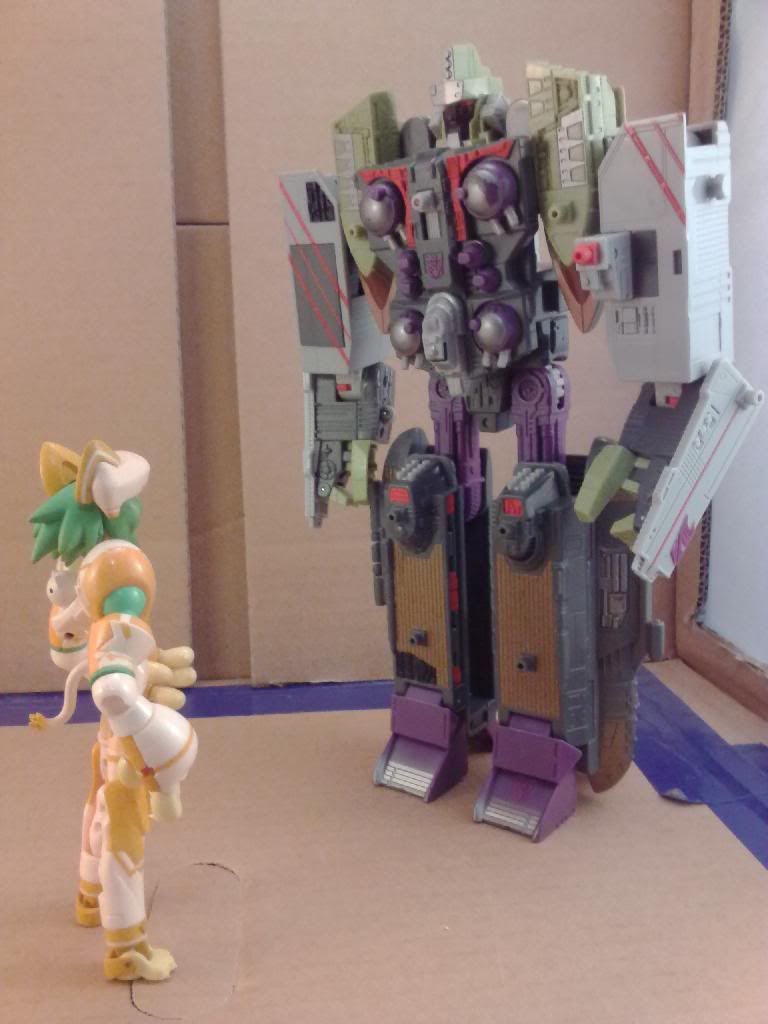 "TIDAL WAVE...TIDAL WAVE...TIDAL WAVE..."
"Mao Chao! Mao Chao! Mao Chao!"
"Mine's bigger."
"Is that all you care about, weapon size?"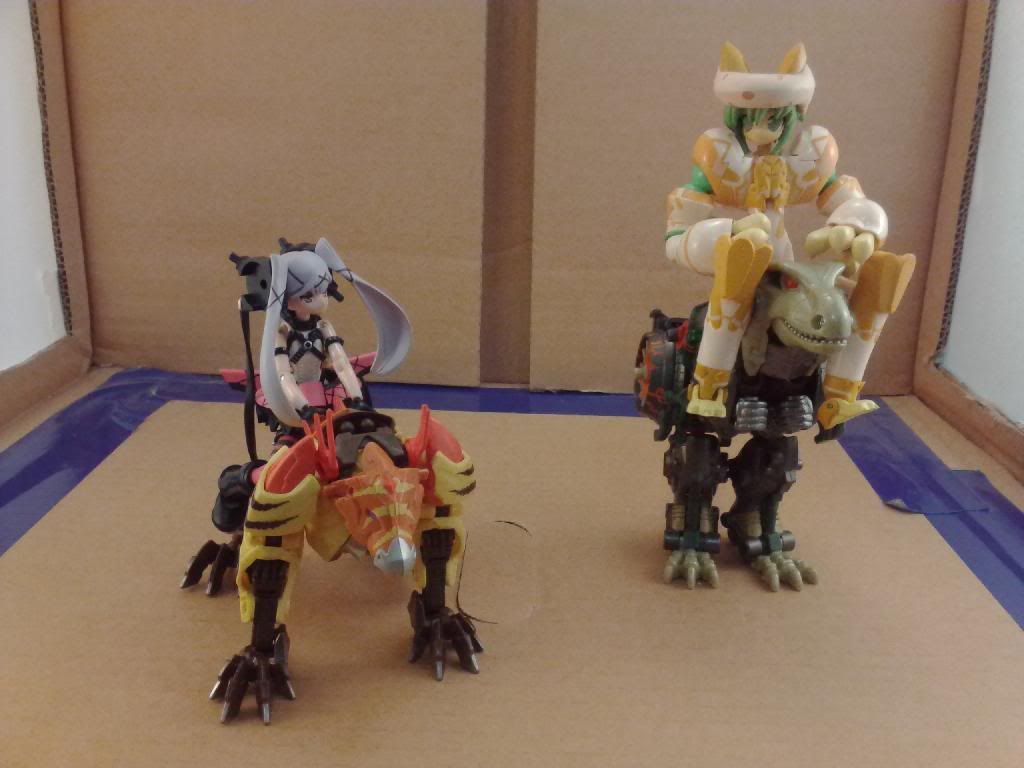 "Pfft. I was riding giant lizards before it was cool."