Hello all.
Well, I've got my first Shinki: Welkstra. Since I've got nowhere to be tonight
, I've decided I'll do a *KOFF*"little" review of her. These are the opinions of someone who's totally excited about getting his first Shinki, so don't get annoyed if I start gushing.
*WARNING* HUGE WALL OF TEXT AND LOTS OF PICTURES. YOU HAVE BEEN WARNED.
First off, the box (Because I want to be thorough.
)
It's very basic: The front, obviously, shows off the little lady herself, along with her accessories. I got her Thursday, so everything's been removed already.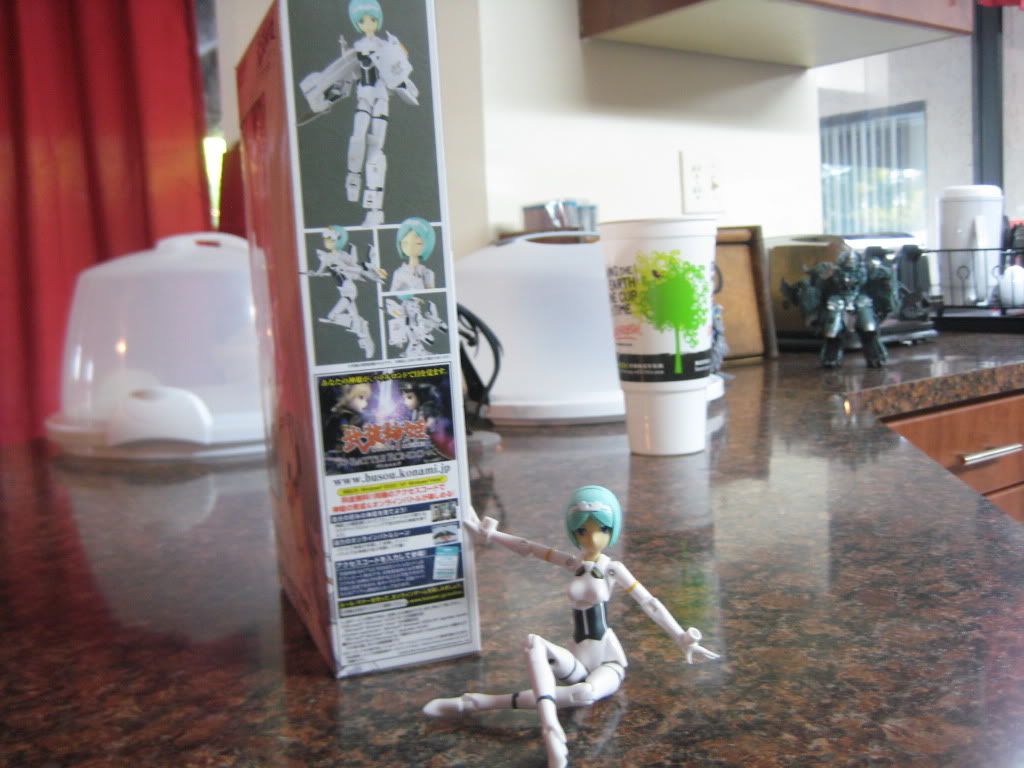 The side of the box shows off the Shinki's gear, and advertises Battle Rondo. Amusingly, the ad shows Xiphos and Benio fighting with each other, instead of, say, Arnval and Strarf.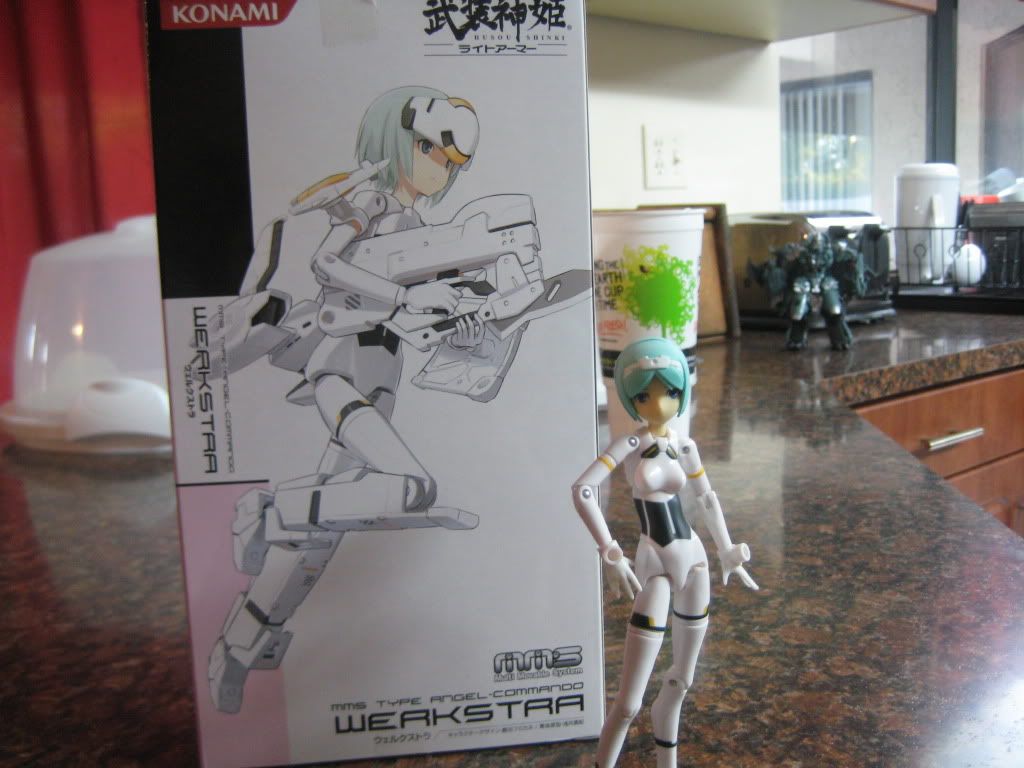 The back has a staple of these figures: Welkstra's artwork. She's pretty badass in this shot, like she's boosting toward some danger in full action mode.
Alright, let's cut to the chase: Here's the star herself:
Welkstra is extremely posable, with about 23 points of articulation: Five in each extremity, one in the torso, and surprisingly, two in the neck. She's got near human articulation (The ankles don't move from side-to-side). As a side note, she looks like Rei from Neon Genesis Evangelion, doesn't she?
Something else that's noticeable is that she's rather tall:
If I had to guess, the MMS tall body is about six inches tall. Welkstra towers over shorter TFs, like Soundwave, and outsizes the Figmas by maybe an inch, while larger TFs manage to look down on them, even if only a little bit.
Welk's gear consists of a few bits of armor, her weapon and her alternate face and hair. Something to note is that Shinki faces are apparently alternate HEADS. While this does allow them to have different hairstyles, it makes swapping faces tedious.
"Alas, poor Shinki, I knew her well....."
Now that that's out of the way, let's go to the main course: The full armor mode.
"Type Commando-Angel, POWER UP!"
In my humble opinion, Welkstra's armored mode is brilliant. It takes her big sister Arnval's "Angel" motif and gives it a rather realistic and practical twist: The wings and boosters are now jump jets, the BFG is now a rather intimidating rifle, and she's got herself a shield to defend herself. Reminds me of Superman's first appearance, when he could only jump good instead of flight. I'd honestly imagine running into her on the street sometime in the near future than, say, the girl wearing wings and lugging around a huge-ass laser cannon.
The rifle is a neat weapon: In addition to looking cool, it has a bayonet that can be detached and used as a knife. the downside of this is that the thing doesn't like to stay on the rifle if it's moved about.
Welkstra's visor can be removed: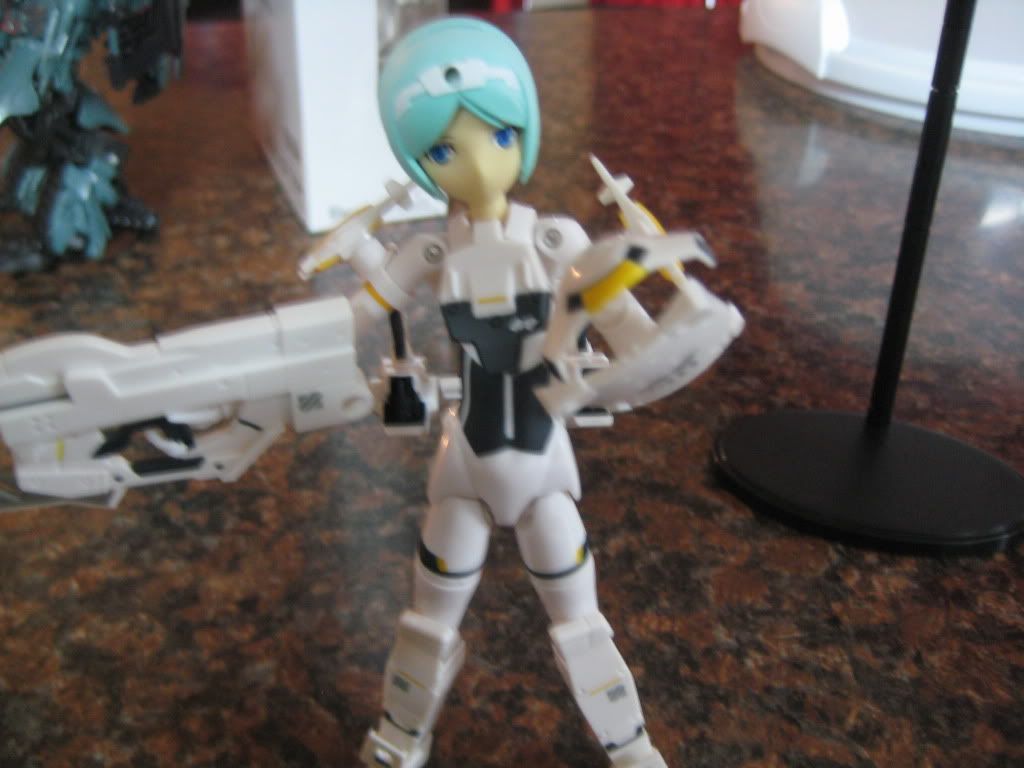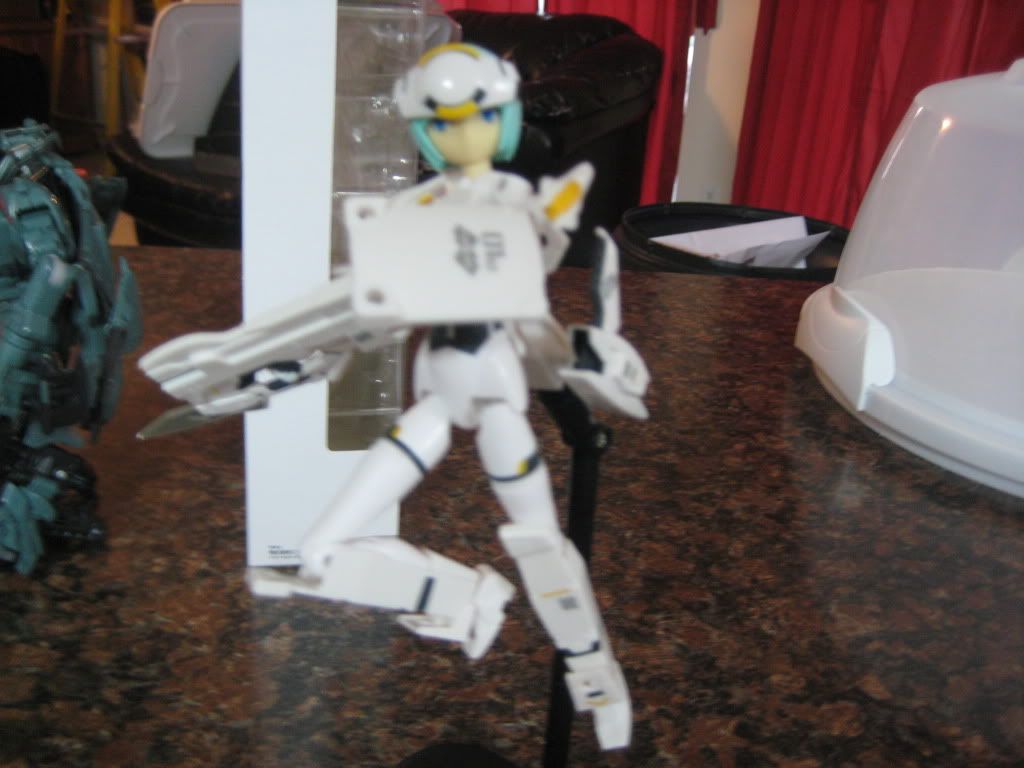 All in all, Welkstra's a very good Shinki and a good choice for a "first ever". I'd say "Buy her", but I'm sure most of you have done just that.
And now, More pictures, because I haven't included enough Already: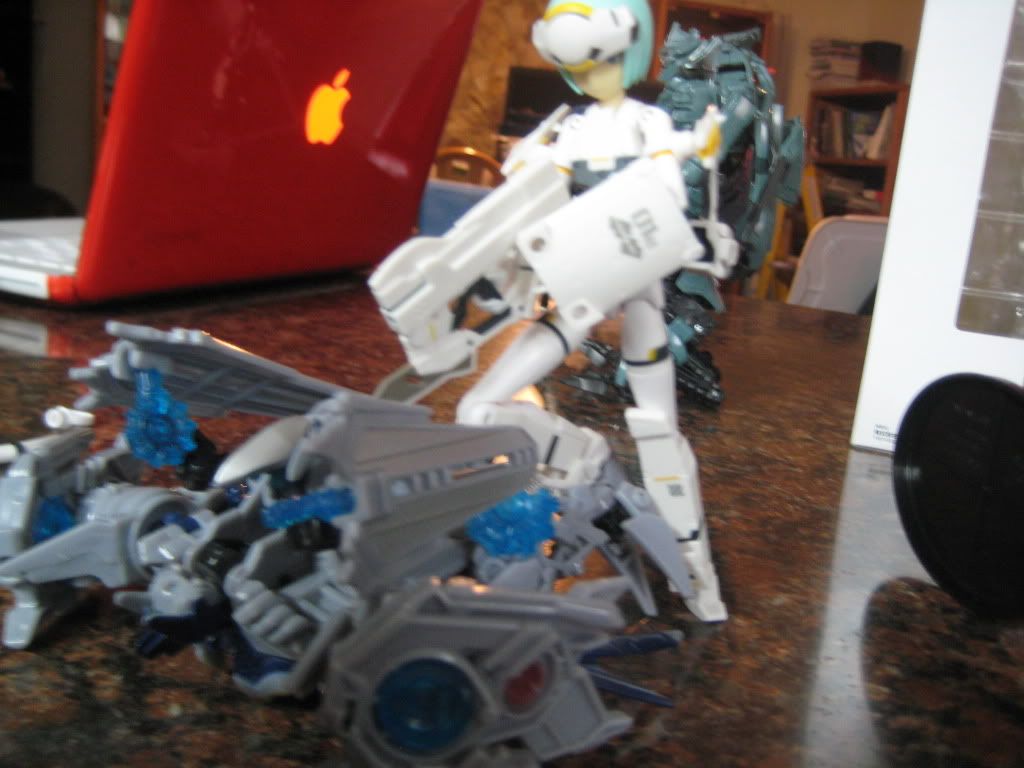 "You have the right to remain silent. If you can't keep your mouth shut, I will shut it for you."
Fighting with Megatron: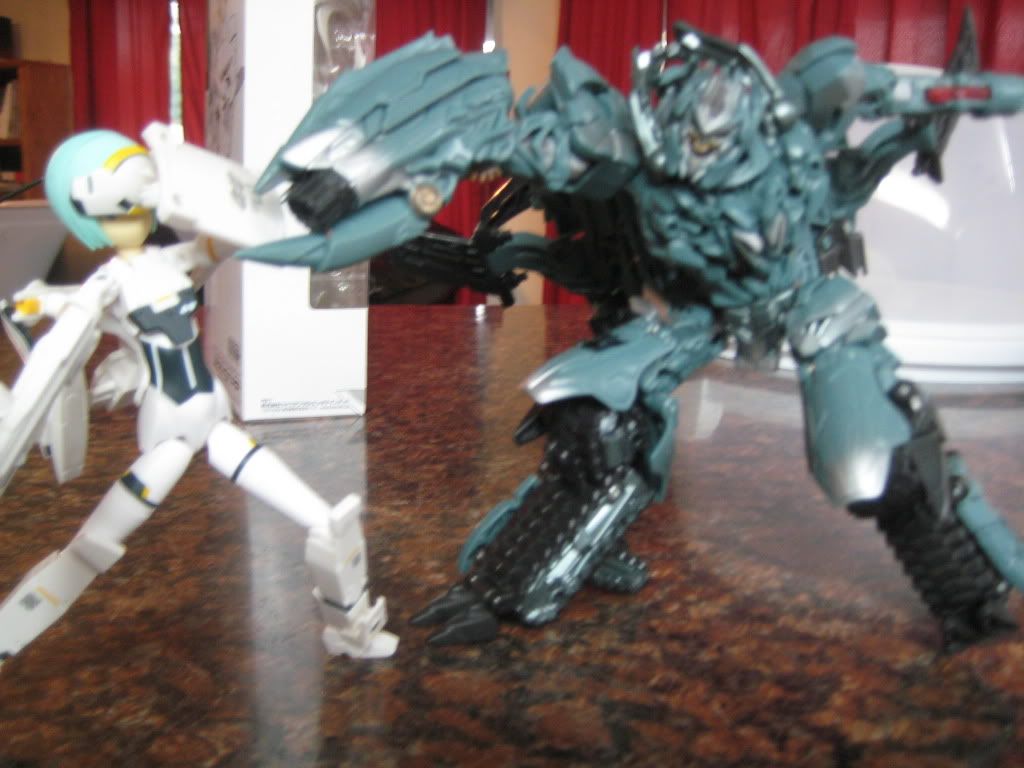 Relaxing after a hard day at work:
Hugs! ^_^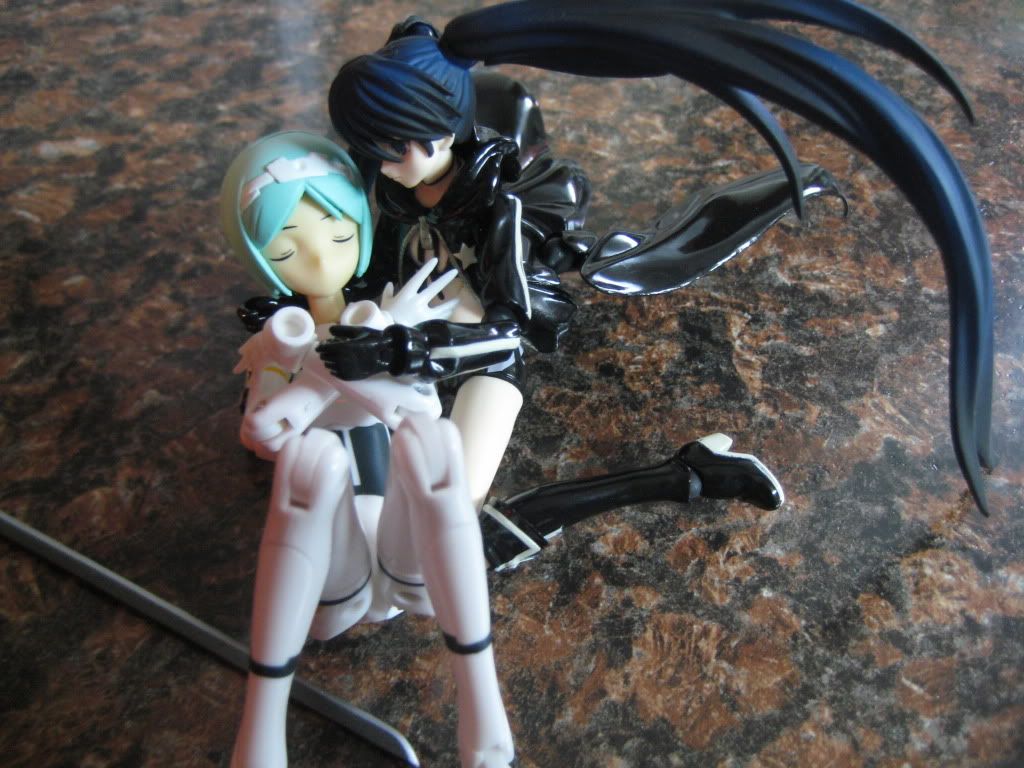 Something I whipped up in photoshop: