http://www.guardian.co.uk/world/2009/oc ... ajj-spirit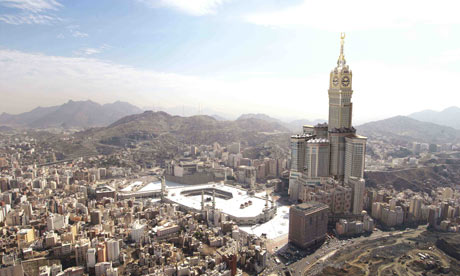 (If the image doesn't show up on this site, it's taken directly from the article)
I was on Cbox one night and I think I vaguely remember one of the other users mentioning that he was either a Muslim or spent time studying Islam. Then again, I have this bad tendency to either hear things wrong, or commit them to memory wrong, so I may have completely misunderstood what that guy was talking about. Still, if I understood correctly, he might be interested in this.
According to the article, a hotel is being constructed in Mecca, overshadowing the Black Stone, part of the
pilgrimage
that Muslims are expected to take once in their lives to commemorate the conquest of Mecca. This hotel offers special amenities specifically to wealthy Muslims, including offering butlers on-call, spas, and a special dining room staffed by chocolatiers. I just have to say, I'm an agnostic person who tries to avoid religion as a whole, but I still have a sense of respect for the trappings of major religions, and this looks flat-out
blasphemous
to me.